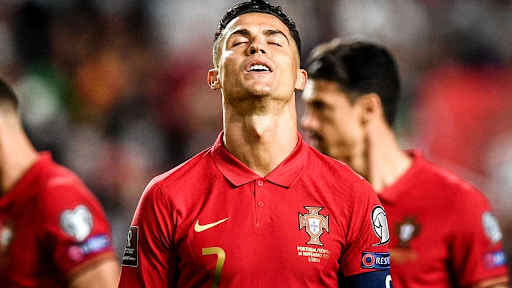 Cristiano Ronaldo got criticised after ruining last-minute chance for Portugal equaliser against Serbia
Cristiano Ronaldo got criticised after ruining last-minute chance for Portugal equaliser against Serbia
November 17, 2021  Authorbaji88
Cristiano Ronaldo has come under fire after attempting an ambitious volley in the dying stages of Portugal's 2-1 World Cup qualifier loss to Serbia.

The match between Serbia and Portugal was a straight World Cup qualifier, with the winner earning a spot in next year's showcase competition. Aleksandar Mitrovic of Serbia scored a late winner to secure Serbia's participation in the World Cup.

On the other hand, Portugal had one final chance to tie the game and qualify for the World Cup. Instead of looking for a teammate, the ball fell to Cristiano Ronaldo's foot, who attempted to score from an impossible angle.

Cristiano Ronaldo's selfish attempt was not well received by football fans online, who chastised the five-time Ballon d'Or winner.

Cristiano Ronaldo's performance against Serbia was awful. The 36-year-old attacker only had three shots in the game, two of which were off target and the third of which was blocked.

Portugal will have to go through the playoffs to qualify for the 2022 FIFA World Cup. On the other hand, Serbia has qualified for the World Cup for the second year in a row after missing out on the 2014 edition.

Portugal is seeded in Pot 1 for the World Cup playoffs. The Selecao should theoretically have an easier time qualifying as a result of this.

During Portugal's World Cup qualification campaign, Cristiano Ronaldo was once again their talisman. In the season, he scored six goals, the most by a Portuguese player.

During the qualification round's group stage, Cristiano Ronaldo scored some crucial goals for Portugal. The five-time Ballon d'Or winner scored two late goals in a 2-1 comeback triumph for the Euro 2016 champions against the Republic of Ireland.

Earlier this year, Cristiano Ronaldo scored a hat-trick against Luxembourg. Ronaldo's hat-trick was his 10th international hat-trick, a world record.

Ronaldo will now try to lead his country to their sixth World Cup in a row. Cristiano Ronaldo's final chance to win football's most prestigious championship will come in the 2022 edition of the showpiece tournament.

Ronaldo holds the record for scoring the most goals for Portugal. In 184 appearances for the Portuguese national team, he has 115 goals.