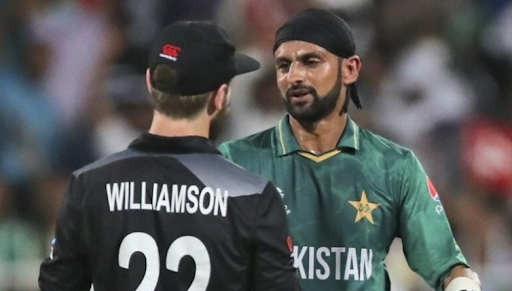 New Zealand captain: Pakistan's of the "highest class".
New Zealand captain: Pakistan's of the "highest class".
October 28, 2021  Authorbaji88
Sharjah: On Tuesday night, New Zealand were 90 for 3 after 13 overs batting first, while Pakistan were 75 for 4 in the chase. The key difference between the sides, said to New Zealand captain Kane Williamson, was their fortunes at the death with bat and ball, which saw Pakistan clinch a five-wicket triumph with eight balls to spare.

When asked what the decisive point in a tight, scrappy game on a low-bouncing pitch was, Williamson stated it was a difficult surface to time the ball on, but Shoaib Malik batted through and ended with a couple of lusty strokes was impressive. He added that Asif Ali also stepped in and smacked the ball perfectly, far sweeter than anyone else on a tough surface.

The New Zealand Captain stated things did not go as they had planned, unfortunately. He added that the opponent, in terms of how clinical they were towards the end, not allowing the New Zealand team to time the ball, was of "the highest class".

On a difficult batting field, Williamson believes New Zealand's total of 134 for 8 at the interval was "very competitive," but allowed that they could have been below average against a Pakistan side geared up to chase that kind of mark.

In the run-up to the match, Williamson had acknowledged New Zealand's last-minute cancellation from their trip to Pakistan due to security concerns, claiming that the two sets of players were in "good relations". After New Zealand's defeat, he reinforced his position, complimenting Pakistan's "spirit" and the environment produced by a partisan Sharjah audience.

The Black Caps' skipper added that the Pakistan cricketers participated "in the right spirit" and "a great spirit" and they're a fiercely competitive and proud cricketing nation, as evidenced by their performance tonight. He commented that they've performed admirably in the tournament's first two games and he is confident they'll be huge players in the back end as well.

He added that it was great to perform in front of an almost sell-out crowd and while there weren't many New Zealanders in attendance, there was still a lot of enthusiasm and enjoyment from those who were watching.